Vehicles
Talk

0
3,880pages on
this wiki
This page has been protected from editing to prevent vandalism.

Only Registered Users can edit this page.
Vehicles
Area Car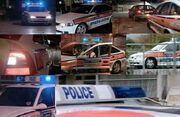 These are saloons like the BMW 5 series or large hatchbacks like the Vauxhall Vectra. They also appear to be mostly manual transmission. Often can be heard screetching to a start when chasing anyone, or in a hurry in general. The call sign for the Area Car is Sierra One.The Area Car is a Police Stations fast response car. It handles urgent 999 calls and car chases as well as providing assistance to other officers. The current area car is the BMW 5 Series.
IRV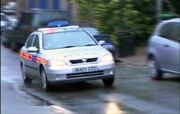 IRV stand for Incident Response Vehicle, also known as the Panda Car, which is now dispatched by IBO. When the area car is dealing with a crime or is not near enough to deal with the reported crime, the Incident Response Vehicle is a level below the Area Car. It is slower than the Area Car, but does the job at getting from A to B. It can handle emergency calls, assist the Area Car and do general Police activities. IRV's past and present at Sun Hill include Ford Fiestas, Vauxhall Astras and many others.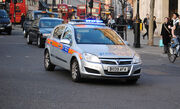 Vans
Main article: Police Vans
Sun Hill has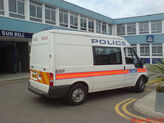 used a variety of vans for personnel transportation, with a cage at the back for prisoners, and some solely for personnel transportation without a cage. Most notable vans include Ford Transits, Leyland DAF 400 Series and Mercedes Sprinters.
ARVs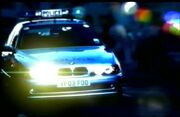 An ARV (Armed Response Vehicle) is used to move C019/S019 Officers around the force area, although no ARVs are perminently stationed at Sun hill enough have appeared on the show for them to be credited on this page. The standerd ARVs include marked Vauxhall Vectras and Bmw 5 series. Also plain blue Ford Transits are used to take armed suspects by suprise.
Helicopters and Boats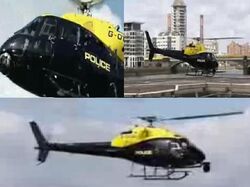 India 97/99 is the Metropolitan Police Airborne Unit. India 97/99 is called in for searches, major operations, to assist in a chase, or, sometimes to check out large disturbances that Sun Hill cannot reach quickly. It comes with all the standard Police Helicopter gear: Cameras, Infrared Cameras and a big spotlight.

In 2002 during the Sun Hill Race Riots, Thames Television made up India 91 opposed to 97/99 as they only were starting off from the beggining


See Helicopter in action India 97/99



Boats
Police Boats help the Metropolitan Police to patrol the river Thames. They deal with incidents where a Police land vehicle is unable to acces. The River Police do not feture much in The Bill but have been seen on some occasions such as where DS Roach and DC Carver pulled the body of a snout out of the water. (where Jim took one look at the body and was promptly sea sick.)