Ad blocker interference detected!
Wikia is a free-to-use site that makes money from advertising. We have a modified experience for viewers using ad blockers

Wikia is not accessible if you've made further modifications. Remove the custom ad blocker rule(s) and the page will load as expected.
This page has been protected from editing to prevent vandalism.

Only Registered Users can edit this page.
Vehicles
Area Car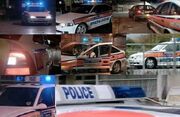 These are saloons like the BMW 5 series or large saloons like the Vauxhall Vectra. They also appear to be mostly manual transmission.  The call sign for the Area Car is Sierra One.The Area Car is a Police Stations fast response car. It handles urgent 999 calls and car chases as well as providing assistance to other officers. The current area car is the BMW 5 Series.
Past Area Cars
1984-1989: Rover SD1
1989-1997: Ford Sierra
1997-2004: Vauxhall Vectra Mk1
2004-2010: 1995 BMW 5 Series
IRV
IRV stands for Incident Response Vehicle, a usually more modern replacement for the older Panda Cars, which was limited to one by the show's end. When the area car is dealing with a crime or is not near enough to deal with the reported crime, the Incident Response Vehicle is a level below the Area Car. It is slower than the Area Car, but does the job at getting from A to B. It can handle emergency calls, assist the Area Car and do general police patrol. IRV's past and present at Sun Hill include mainly Vauxhall Astras, but was a Ford Focus between 2000 and 2004.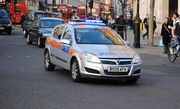 IRVs
1996-2003: Vauxhall Astra Mk3 (only occasionally used in early 2000s)
2000-2004: Ford Focus Mk1 (became Panda Cars in 2004)
2004-2010: Vauxhall Astra Mk4 (Episode 191-New Beginnings) occasionally seen between Time Bomb and Respect 2)
2009-2010: Vauxhall Astra Mk5 (Seen as props as early as Conviction, used by cast in New Beginnings, used until Respect)
Supervisor's Vehicles
Supervisor's Vehicles are either similar to an IRV or unique. They have been Vauxhall Astra Mk4 Estates, Vauxhall Vectra Estates, and when a newer Astra Mk5 was brought in, the older Vauxhall Astra Mk4 stayed as Supervisor's Vehicles alongside the now replaced BMW 5 Series E39 Area Car, which was replaced by the newer E60. Supervisor's main vehicles first came to light in the early 2000s. They are only used by people with a rank of Sergeant or higher.
Supervisor's Vehicles in the Past
2000-2003: Vauxhall Astra Mk3
2004-2006: Vauxhall Vectra Estate
2006-2009: Vauxhall Astra Mk4 Estate
2007-2010: Vauxhall Astra Mk4
2009-2010: BMW 5 Series E39
Panda Cars
The Panda Cars were used in the 1990's and they were slightly scaled down in 2004, but were still active until the show's end in 2010. They used the Rover Metro, the Ford Fiesta and the Ford Focus.
Panda Cars Used
Mk2 Rover Metro 100 (1990-1998)
Ford Fiesta Mk4 (1998-2000)
Ford Fiesta Mk4 Facelift (2000-2006)
Ford Focus Mk1 Hatchback (2004-2010) |}
Vans
Main article: Police Vans
Sun Hill has
used a variety of vans for personnel transportation, with a cage at the back for prisoners, and some solely for personnel transportation without a cage. Most notable vans include Ford Transits, Leyland DAF 400 Series and Mercedes Sprinters.



Vans Used At Sun Hill
ARVs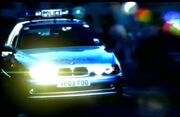 An ARV (Armed Response Vehicle) is used to move C019/S019 Officers around the force area, although no ARVs are perminently stationed at Sun hill enough have appeared on the show for them to be credited on this page. The standerd ARVs include marked Vauxhall Vectras and BMW 5 series. Also plain blue or black Ford Transits are used to take armed suspects by suprise.
Helicopters and Boats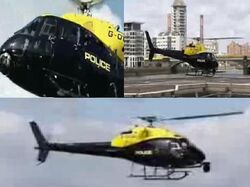 India 97/99 is the Metropolitan Police Airborne Unit. India 97/99 is called in for searches, major operations, to assist in a chase, or, sometimes to check out large disturbances that Sun Hill cannot reach quickly. It comes with all the standard Police Helicopter gear: Cameras, Infrared Cameras and a big spotlight.

In 2002 during the Sun Hill Race Riots, Thames Television made up India 91 opposed to 97/99 as they only were starting off from the beggining.


See Helicopter in action India 97/99



Boats
Police Boats help the Metropolitan Police to patrol the river Thames. They deal with incidents where a Police land vehicle is unable to acces. The River Police do not feture much in The Bill but have been seen on some occasions such as where DS Roach and DC Carver pulled the body of a snout out of the water. (where Jim took one look at the body and was promptly sea sick.) They were mentioned during The Canley River Murders due to the fact that two of the five victims were found by river police. They were also mentioned in Episode 273 when criminal Irene Radford had an old associate murdered and dumped in the Thames. The River Police were also featured in the season 25 episode Invisible Man, where DCs Mickey Webb and Jacob Banks pulled the body of a lawyer out of the river.
CID Vehicles
CID primarily use unmarked civilian vehicles as their vehicles on OBBOs and when they go to interview suspects. They use the Vauxhall Astra, Toyota Avensis, Nissan Primeras & Ford Mondeo, and previously used the Ford Focus. Some feature hidden LED lights and all are equipped with a portable blue roof siren, attatched to a wire, particularlly noted in the season 16 episode Wheels when DC Tom Proctor dropped it out of the brand new crime car whilst responding to a callout.
Vauxhall Astra Mk4 (1998-2004)
Ford Focus Mk1 Hatchback (2000-2004)
Volvo S40 Crime Car (2000{One episode, written off after collision with TSG van})
Vauxhall Astra Mk5 (2004-2006)
Peugeot 307 (2005-2006)
Ford Mondeo Mk3 (2008 & 2009)
Ford Mondeo Mk4 (2009 & 2010)
Toyota Avensis Mk1 (2003-2005)
Toyota Avensis Mk2 (2006-2010)
Nissan Primera MK2 Facelift (2002-2004)
Nissan Primera Mk3 (2004-2009)