Sun Hill Police Station
Talk

0
3,880pages on
this wiki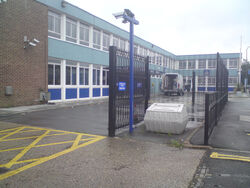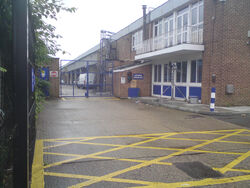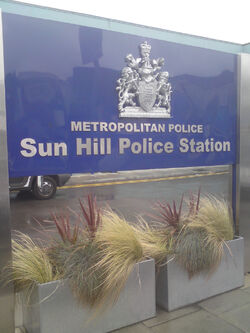 Sun Hill Police Station is the station in which The Bill is set. It serves the district of Sun Hill, which is within the real borough of Canley.

Location of Sun Hill suburb
Sun Hill is a real London suburb. Sun Hill is the name of the Metropolitan Police Station. Sun Hill suburb is located in London borough of Canley in the East End, north of the River Thames. The Borough of Canley is approximately contiguous to the real-life London Borough of Tower Hamlets, and in the first few years of The Bill, Sun Hill police station was actually stated as being located in Wapping in Tower Hamlets. Sun Hill has a London E1 postcode, which corresponds to the real-life areas of Whitechapel and Stepney.
Location of Sun Hill Police Station
Despite the name change to the London borough, and various inconsistencies in the jurisdiction of the Sun Hill police within the borough, the actual location of the Sun Hill police station has remained surprisingly consistent over the 27 years.
The location of the front office is on Windsor Avenue, and the entrance to the production office is on Deer Park Road.

Station Details
Superintendent of Operations Superintendent Jack Meadows
Address 2 Sun Hill Road, Sun Hill, Canley. LONDON. E1 4KM
Telephone Number (020) 7511 16 42
Main article: Layout
Main article: History
Sun Hill police station has seen a lot of action over the years and has had many officers walk through its doors starting from P.C. Jim Carver and W.P.C June Ackland (Series 1) to Superintendent Jack Meadows (the final Series).
Sun Hill station has had many experiences where its wings were clipped; in 2002 it was blown up by P.C. Des Taviner during an attack by teenage thugs with petrol bombs; in 2005 it had a Transit van crash through the front doors which then blew up the front reception. It has also been under seige by armed and masked thugs.