Sgt. Maitland is a character from
The Bill
.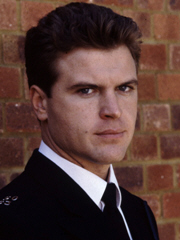 Sergeant John Maitland arrived at Sun Hill under a bit of a cloud. At his previous North London station this young sergeant had shopped two traffic cops for drinking on duty. No one could argue that he didn't do the right thing by the book, but the incident left a nasty taste. Sun Hill looked at him more kindly when Ted Roach was attacked by a gang of thugs. Maitland waded in to help, and from then on was respected as a sergeant who led from the front. He was also seen as a career officer with ambition. John was good at dealing with the public, but not always a diplomat when telling older and more experienced officers what to do. Despite being a solid, dependable officer, however, he never topped any popularity charts, being humourless and insistent on doing everything by the book. He left Sun Hill to take up a teaching post at Hendon.
John had a partner named Deb and a son.
Ad blocker interference detected!
Wikia is a free-to-use site that makes money from advertising. We have a modified experience for viewers using ad blockers

Wikia is not accessible if you've made further modifications. Remove the custom ad blocker rule(s) and the page will load as expected.