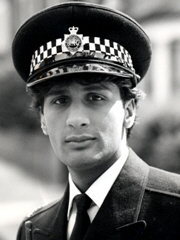 PC Danesh Patel is a character in The Bill.
PC Danesh Patel came from a large, close-knit, Hindu family. He had a happy religious upbringing and his parents instilled him with a clear sense of right and wrong. Joining the police was never a 'calling', but he thrived working as part of a team and knew that he would enjoy the camaraderie of the relief. Patel was often the subject of wind-ups from fellow officers, but it was never an issue for him - he saw it as a way of cementing his place in the team. He was a polite, efficient and conscientious cop, if a little young and impressionable. Patel has the distinction of being Sun Hill's shortest serving officer, working at the station for only 2 months in 1987.
Ad blocker interference detected!
Wikia is a free-to-use site that makes money from advertising. We have a modified experience for viewers using ad blockers

Wikia is not accessible if you've made further modifications. Remove the custom ad blocker rule(s) and the page will load as expected.