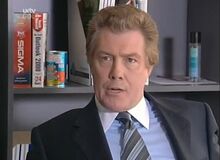 Lewis Collins (27 May 1946 – 27 November 2013) was an English film and theatre actor. His career defining role was playing the character of Bodie in the late 1970s - early 1980's English television series The Professionals. In Episode 034 of The Bill from 2002, Lewis guest starred in the role of genetic scientist, Dr. Peter Allen.
Ad blocker interference detected!
Wikia is a free-to-use site that makes money from advertising. We have a modified experience for viewers using ad blockers

Wikia is not accessible if you've made further modifications. Remove the custom ad blocker rule(s) and the page will load as expected.